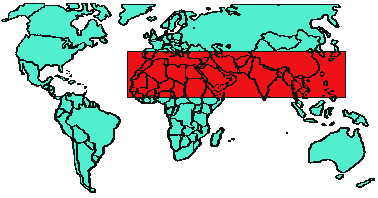 God is so funny. When @NationsBeGlad tweeted "Where in the world does God want you – somewhere on this map?" with the above link, I realized He has made our calling the same way He's made my life. I know that God created me a little bit "off to the side." You see, our calling is just NW of the 10-40 Window. Spain actually falls within the 10-40 window, but resources never include it in the list of unreached countries. Considering Spain's Christian history, I can see why it's not considered "unreached," but Spain definitely needs to be reached. By percentage of believers, it fits.
I understand the focus on the 10-40 window. Famous missionaries of old have been known to say, "No one has the right to hear the gospel twice, while there remains someone who has not heard it once" (Oswald Smith), and that fuels the desire of some to take the Gospel to the 10-40 window, where many have not yet heard it. Praise the LORD for these folks.
I do find it sad that we had to develop with model for missions centered on the 10-40 window. Was the church not trusting God to call the right number of people to the right places to share the Gospel at the right time? Do you know the story of Hudson Taylor? He so desired to see all of China reached in his lifetime that he would pray for God to send a specific number of missionaries. Taylor once prayed for 70 missionaries and God sent 76 on the next boat to China. So Taylor prayed for 100 and God sent 149. This is a tiny example of the great faith that Taylor had in God (his missionaries didn't raise funds but trusted the Lord to provide)!
God is sovereign. He knows which countries need missionaries, and He will call people according to His knowledge of their heart, abilities, personalities and the needs of people. My prayer is that this emphasis on the 10-40 window is not blocking the call elsewhere for some. Let us not make potential missionaries feel guilty that they might be called to live in a tourist town, a modern city, or a temperate climate. This will lead to unsent missionaries, or worse, missionaries misinformed at best and guilt-tripped at worst into serving somewhere they'll be totally ineffective.
I fear that emphasis on the 10-40 window has actually expanded the window. The nations that once sent missionaries are suffering in their own way now, and one day I believe South America, Africa and especially China will be desperately sending missionaries back to England, Rome and Paris. They may not fall into the category of "never hearing the Gospel," but the Gospel they know is not the Gospel of the Bible, and I don't see how that is any better.
What I desire is that every Christian would hear Jesus' words to Peter in John 21: "…what is that to you? As for you, follow me."
Peter turned around and saw behind them the disciple Jesus loved—the one who had leaned over to Jesus during supper and asked, "Lord, who will betray you?" 21 Peter asked Jesus, "What about him, Lord?"   22 Jesus replied, "If I want him to remain alive until I return, what is that to you? As for you, follow me."